EKONID holds fact-finding mission on energy efficiency and renewable energies in Germany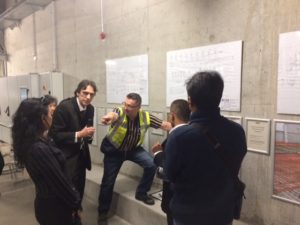 According to recent estimations, some 80% of all existing buildings in Indonesia are not energy efficient. Hence, energy demand has been increasing at rates above the annual economic rates. On the other hand, Germany is ranked no.1 in terms of energy efficiency, with the country aiming towards a 20% reduction in primary energy consumption by 2020 and 50% by 2050. In terms of renewable energy, Germany has been able to cover 32% of the country's electricity consumption as per 2016.
With the objective of understanding the importance of the right regulatory environment to promote the application of energy efficiency measures, as well as to share ideas and experiences in the implementation of energy efficiency measures, EKONID, together with 10 energy efficiency practitioners from Indonesia went to Berlin for a fact-finding mission of "Energy efficiency and renewable energies in the building sector in Germany". Held from May 15 until May 18, this program was supported by the German Ministry for Economic Affairs & Energy (BMWi) and was implemented by EKONID and the Renewable Energy Academy (RENAC).
The program consisted of a one-day seminar and a three-day visit to relevant sites. The seminar saw a number of well-known energy efficiency practitioners from Germany providing essential information about the implementation of energy efficiency and renewable energies in the building sector in Germany, as well as on the relevant policies and strategy framework. The seminar also invited a number of representatives from German companies who presented their energy-saving technologies for buildings that could be applicable for Indonesia.
In the next day, participants visited the office of the German Federal Ministry for the Environment, Nature Conservation, Building and Nuclear Safety, which acts as the government body that provides the Federal Government with sectoral scientific consultation in the political fields of spatial planning, urban development, housing and building. During this visit, the commisioner for energy in federal buildings, Dr. -Ing. Olaf Böttcher, presented his paper of climate protection in the building sector while explaning the best practices implemented for federal buildings located in Berlin. The participants were also taken to an IKEA store in Berlin-Lichtenberg, where new technologies that utilises heat from wastewater are, for the first time, being applied on an industrial scale. With this innovative plant technology, up to 70% of the furniture store's annual energy requirements can be covered.
On the third day, participants were brought to the Office Building of Heinrich-Boell Foundation, considered a leader in the field of modern office and conference center design, and the Residential Passive House in Berlin Prenzlauer Berg, which is a great example of water and energy recycling as its system is able to save energy and water for less than 0.6% of the total apartment cost.
The visit to Haus 2019 located in Berlin Marienfelde sealed the program on that final day. This building, which is owned by the Federal Environment Agency, is one initial sample of zero energy building as all the required energy are covered by a roof-based photovoltaic system and a geothermal heat pump that supplies the building with all of its energy needs. The building even registered an energy surplus in its first year of operation.
EKONID, Ministry of Industry promotes participation at ANUGA
More than a dozen Indonesian food and beverage companies ready to participate in the largest food and beverage trade show in the world.
EKONID, in cooperation with the Indonesian Ministry of Industry, promoted the largest food and beverage trade show in the world, ANUGA, to members of the Indonesian press corps at a press conference in the Ministry's office in Jakarta on August 22, 2017.
In attendance was the Head of the Trade Fair Department at EKONID, Prieta Perthantri, and the Secretary at the Directorate General of Agro Industry at the Ministry of Industry, Enny Ratnaningtyas, as well as dozens of members of the Indonesian press, including the largest Indonesian daily newspaper Kompas, and the country's main English-language newspaper, The Jakarta Post.
During the press conference, Mrs. Ratnaningtyas encouraged local companies to participate in ANUGA, which is to be held in Cologne, Germany, from October 7 to October 11, 2017. "We hope that by participating in the event, Indonesian food and beverages will gain better international recognition and we can see more of them lining up shelves in markets in Europe," she said.
She added that the trade fair was also a great opportunity for local food producers to reach out to potential partners and to learn more about the various requirements needed to penetrate the European market.
ANUGA itself is well known to be a leading trade fair for the food and beverage industry. First held in 1919 in Stuttgart, Germany, the biannual event this year is set to welcome some 160,000 visitors and 7,200 exhibitors from 190 countries unto its 284,000 sqm of trade show floor space.
Indonesia has been a regular participant of ANUGA since 2009 and the number of Indonesian visitors and exhibitors has been steadily rising over the past years, peaking at 2013 with 108 participants. The number of Indonesian visitor declined in 2015 to 134 due to the limited space available at the trade show. This year, aside from the various new products, innovations and technologies to be introduced in ANUGA 2017, the Indonesian province of West Sumatra is set to present the province's food and beverage product to the trade show.
Mrs. Ratnaningtyas further noted that, during ANUGA 2015, the Ministry of Industry recorded an on-the-spot transaction of some US$11.6 million and potential transactions of $2.4 million. "Looking at the opportunities we've learned about last year, we have set a target of three million dollars in potential buyers and as much as twelve million dollars for on-the-spot transactions this year," she said.
16. Asien-Pazifik-Konferenz der Deutschen Wirtschaft
For further Information, you can click here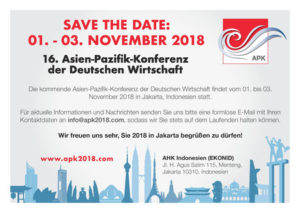 Auf der Ekonid-Website finden Sie den Artikel über SMK-Konferenz in Surakarta
Weitere Informationen auf englisch über den Artikel finden Sie hier
The business trip to Indonesia – a quick cross-cultural guide part 1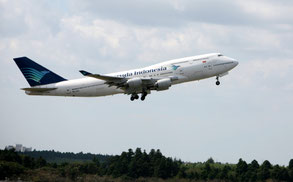 You are on your way for a business trip to Indonesia. The meetings are scheduled, flights and hotels are booked and you have prepared your  agenda.
But what about the Do's & Don'ts when meeting with Indonesian business partners? What do you have to take care about? What do you need to pack in luggage to be dressed appropriate? Our new blog series should give you an overview about the basic cross-cultural issues for Indonesia and help you to navigate trough the cultural topics when doing business in and with Indonesia.
In this article you can find some information about how to dress and what to pack in your luggage.
What to wear?
MEN WEAR LONG
If you pack your bags for a business trip to Indonesia, you don't have to change the choice of your business outfits. Simply bundle some suits, shirts and appropriate footwear. Wearing a tie depends on the situation in Indonesia. Make sure that you take some more shirts with you than normally. The heat and humid climate will make you sweat easily and you might need to change your shirt more than one time a day. When choosing your clothes you should definitely have in mind that in Indonesia status is also  expressed by the way you dress. For men, it is important to carry a high quality watch, for example. When you wearing a suit, combine it only with long-sleeved shirts, even though it can get very hot in Indonesia. In some offices it might be possible to wear short-sleeved shirts but never combine them with a tie. If you decide to use a casual shirt with short-sleeves make sure that it is appropriate.
OR BATIK!
If you are brave or already staying a long time in the country, then you can wear a traditional batik shirt and combine it with dark pants. What might look like a leisure outfit to a westerner is absolutely suitable for business and official events in Indonesia. And when wearing a batik shirt you do not only show that you know about the local business attire, it is also an appreciation to one of Indonesia cultural heritage, the art of Batik. Wearing a long-sleeved or short-sleeved mostly depends on the situation. For your daily office routine a short-sleeved Batik is fine. For formal meetings, events or dinners you should choose a long-sleeved one! If the event is very formal (business attire or formal attire) you should pick sober colors (brown or black) and a discreet pattern. Batik shirts fit in each situation, are practical and show that you regard the Indonesian culture. Oh yes, one final thing. Never ever put the shirt into your trousers. Batik is worn outside.
FOR WOMEN – DON'T TAKE IT TOO SHORT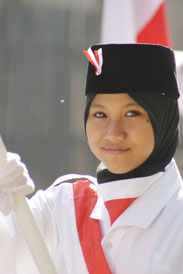 Women should wear a costume or a business dress for meetings and in the office. If you like to wear skirts, then please make sure that they are not too short. The hem should close to the knee or even below. Combine it with a blouse with a moderate neckline and a discreet makeup. Maintain a fashionable handbag to your outfit and also choose your jewelry carefully.
Remember that your appearance symbolizes your status and Indonesian women care a lot about that. Of course you also can wear one of the wonderful Batik shirts for women as well. For a women it is fine to wear them short-sleeved. Another topic goes with your shoulders. Even if it is very hot and humid in Indonesia it is not appropriate to wear shoulder free tops or lace tops. The shoulders should be covered at all times and you will also start doing it yourself once you have spent more than an hour in a climate cold meeting room or mall.
THE SHOES
As for shoes, you should not wear sandals or other open-toed shoes for business meetings or presentations. This applies not only for women but also for men. Feel free to slip under your desk in a few open-toed shoes, but for meetings the toes should always be covered by the shoes.
---
German Business Mission on Civil Security Technologies and Services to Indonesia
The Indonesian market for civil security technologies and services offers interesting business opportunities for Indonesian and German companies. Major infrastructure projects, ongoing property developments, as well as massive governmental programs such as the move towards a more digitized civil registry system, has created significant demands for stronger civil security technologies and services.
It was against this backdrop that, from May 14-18, 2017, with the support of the German Federal Ministry for Economic Affairs and Energy (BMWi) and the Association of the German Private Security Industry (BDSW), the German Indonesian Chamber of Industry and Commerce (EKONID) hosted a German Business Mission from the Civil Security Technologies and Services to Indonesia. The visit was done to gauge Indonesia as a market and to look for potential partners in the region.
The four-day mission consists of conferences in Jakarta and Surabaya in East Java, as well as B2B meetings and site visits to Indonesian security companies. At the conference during the first day, Mr. Jan Rönnfeld, Managing Director of EKONID said: "This event aims to gather Indonesian and German security industries and work together to work out solutions and to transfer knowledge from the latest innovations from the civil security technologies and services from Germany to Indonesia".
Mr. Christian Paschen Executive Officer and the official representative of the BMWi said: "There is increasing demand for security in Indonesia, and we want to help supply this demand". Meanwhile, Mr. Ulrich Duennes, Managing Director of STI Security Training International GmbH and the official representative from the BDSW said: "I am convinced that there is big potential in Indonesia and we want to be a part of it".
As many as six German security companies travelled to Indonesia to look at the country's market potential. This is done via B2B meetings between the companies, as arranged by EKONID, as well as site visits to the local security companies. The German companies met with over 60 Indonesian security companies in Jakarta and 80 other Indonesian security companies in Surabaya.
The mission was appreciated by the local Indonesian companies that participated in the event. Rudy Syafrudin Lubis, a senior technical consultant from Peruri Digital Security, an Indonesian security company, commended the arrangement of the event. "I hope to find a good match with the visiting security companies from Germany. Looking forward, I hope this kinds of visits will continue so we can keep getting updated on the latest technologies in digital security," he said.
INTERESSANTE DOKUMENTATION von ARTE über das Thema Religion, Macht und Archipele
Sie können den Link hier finden.
PRESSEMITTEILUNG ZUR SOFORTIGEN VERÖFFENTLICHUNG 14.12.2016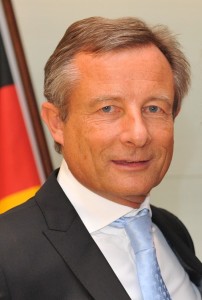 Mit Dekret vom 11. August 2016 hat der indonesische Staatspräsident, S.E. Joko Widodo, die Eröffnung einer honorarkonsularischen Vertretung der Republik Indonesien in München mit dem Konsularbezirk des Freistaates Bayern verfügt und dabei Herrn Dr. Yorck Otto als honorarkonsularischen Leiter der Vertretung ernannt.
Die Bundesregierung der Bundesrepublik Deutschland hat daraufhin Herrn Dr. Yorck Otto als Honorarkonsul das Exequatur erteilt. Die Aufnahme der Amtsgeschäfte und Eröffnung der konsularischen Vertretung fand heute mit Vertretern der indonesischen Botschaft und der bayerischen Staatsregierung in München statt.
Die Republik Indonesien ist als viertgrößtes Land der Welt mit rund 255 Millionen Einwohnern, wichtiges Mitglied der ASEAN- und G20-Staaten und als drittgrößte Demokratie der Welt, ein für die Zukunft bedeutendes Partnerland der Bundesrepublik Deutschland und des Freistaates Bayern.
Die Vertretung soll gerade für die großen anstehenden Investitionsvorhaben Indonesiens in erneuerbare Energien, Infrastrukturmaßnahmen und Flugzeugindustrie als Verbindungsvertretung fungieren. Bereits im März 2017 wird in München eine größere Informationsveranstaltung zwischen Indonesien und Bayern unter der Mitwirkung der Bayerischen Staatsregierung stattfinden.
Herr Dr. Yorck Otto ist neben dieser Funktion Unternehmer und M&A-Berater und auch Präsident des Bundesverbandes Union Mittelständischer Unternehmen e.V., der im Verbund mit der Wir-Eigentümer-Verbandsgruppe annähernd 70.000 klein- und mittelständische Unternehmen (KMU) vertritt.
Weitere Informationen erhalten Sie gerne unter
www.yorck-otto-gruppe.de
www.hrconsulateindonesiamuc.de
oder durch Frau Kristina von Hohberg
Dr. Otto Verwaltung München – Maria-Theresia-Straße 6 – 81675 München – Deutschland
Telefon: +49 (0)89 – 22 06 96
Email: info@yorck-otto-gruppe.de